Ardissone community offers beautiful condominiums in Naples
The Ardissone community offers quality Florida real estate with a variety of condominiums to choose from, including penthouses. Even if you aren't in a penthouse, you can have an entire floor to yourself or share with only one neighbor. This gives you plenty of privacy and space.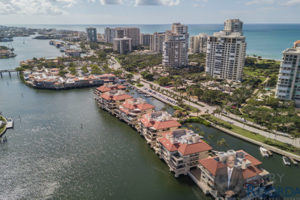 Located in Park Shore, the Ardissone features six buildings that are three stories tall, providing 33 residences. There are either one or two properties on each floor, with typical floor plans more than 2,500 square feet. The three penthouses offer 5,000 square feet, including the balcony. You can choose between  beachfront and bay-front residences.
The complex is gated, and each resident has the security of a private key-operated elevator to their home. Residents get to enjoy a beach access right across the street. The complex offers an area for BBQs, a spa, a pool that's located near the bay, and there are boat slips that you can purchase or lease for an affordable price.
Pets are allowed, but only two per household, and with approval of management.
Why choose the Ardissone community?
Not only will you get to live a luxurious lifestyle, but also you will have a great investment. With waterfront views, high-end finishes, spacious living and access to the beach, the property will only grow in popularity. The entire community is well-maintained and has excellent management.
Whether it's your primary residence or investment property, the Ardissone community is a great choice. The low-rise, low-density nature makes it feel cozy yet spacious. It's a wonderful place to live and there are so many things to do right on the property or nearby. Shopping and fine dining are a short distance away.
If you are interested in seeing any homes in the Ardissone, contact Realtor Larry Roorda at 239-860-2534. You can also learn more about Ardissone and search available properties online.
Whether you are looking to sell a home in Ardissone or buy a home, Realtor Larry Roorda has the experience you need. He's an expert in the Park Shore and The Moorings areas in Naples.