The Moorings Naples History
History of The Moorings in Naples, Florida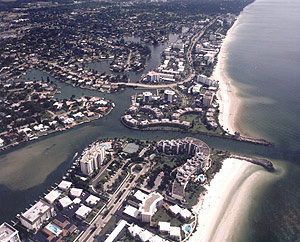 The Moorings is a fun and vibrant condo community today in Naples, Florida, and it all started with one man's vision for the property. Read the fascinating history of The Moorings and imagine yourself living here! Don't forget Larry Roorda offers personal service and 30 years of real estate experience, so finding the ultimate luxury condo at The Moorings is easy! Enjoy this historical discussion then give Larry a call at 239-860-2534 or send him an email at larry@roorda.com. He's always glad to help you!
Originally purchased for $1.5 million in 1957 by a development company headed by Milton Link, the Moorings has grown from the original 300 acres to more than 1,300 acres, 1,938 homes and apartments as of 2004. In 1958, lots first went on sale for the princely sum of $4500 each. The original Property owners association was founded in 1962 with only 30 members. The main thoroughfare for the Moorings was named Crayton Road after Mrs. E.W. Crayton.
The Moorings is known for its quiet streets shaded with beautiful Banyan, Ficus and Palm trees. Residents enjoy a private country club and beach park. Access to Gulf of Mexico via Doctors Pass is enjoyed from many waterfront properties located along Moorings Bay, Bowline Bay and Compass Cove. The Moorings has survived economic slumps, Hurricanes, and time to become one of the most desirable areas in the world to live.