Gulf Towers offer beachfront living in The Moorings
Gulf Towers beachfront condominiums are great for people wanting to spend less time maintaining their home and more time enjoying the beach.
If you're looking for a Naples waterfront home but you have trouble finding one just the right size, in just the right location, take a look at Gulf Towers. Often, when you get a great location, the size of the units either make you claustrophobic or they are so expansive you can't afford the cost or the time to maintain it.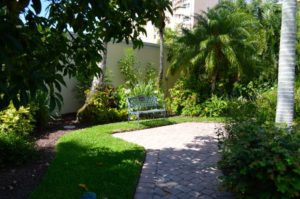 However, at Gulf Towers the units are about 1,200 to 1,300 square feet. It is ideal for singles or couples looking to downsize. It can also be rental property generating income. Owners are allowed one lease a year for a minimum of 90 days.
In addition to the benefits of the size of the individual units, the building has six residential floors, each with six units for a total of 36 condominiums. It is a nice compromise between single-family home living and high rises.
Gulf Towers living
The obvious benefit of living at Gulf Towers is the location. You can walk the beach daily, watch sunsets and enjoy boating, fishing or swimming in the Gulf of Mexico. Residents also can enjoy a pool and community room. Each unit has covered parking and there is a manager on-site. Birds are the only pets allowed.
Built in the 1960s, Gulf Towers is located south of Doctors Pass and north of Lowdermilk Park in The Moorings. Located just north of downtown Naples, The Moorings has survived economic slumps, Hurricanes, and time to become one of the most desirable areas in Naples to live.
It is known for its quiet streets shaded with beautiful Banyan, Ficus and Palm trees. Residents enjoy a private country club and beach park.
There's plenty of outdoor activities and shops and dinning within walking distance or a short drive.
If you would like to call Gulf Towers home, call Larry Roorda at 239-860-2534. You can view available listings online at roorda.com.