Housing market favorable for preseason buyers
Naples, Fla. (November 23, 2022) – Speculation that home sales in October would drop dramatically in Collier County following Hurricane Ian was proven inaccurate as closed and pending sales for the month increased 23.7 and 8.7 percent, respectively, compared to closed and pending sales reported in September, according to the October 2022 Market Report by the Naples Area Board of REALTORS® (NABOR®), which tracks home listings and sales within Collier County (excluding Marco Island). And even though 525 listings were either terminated, expired or withdrawn from the Southwest Florida MLS during October, overall inventory for the month increased 72.7 percent to 2,325 properties from 1,346 properties in October 2021.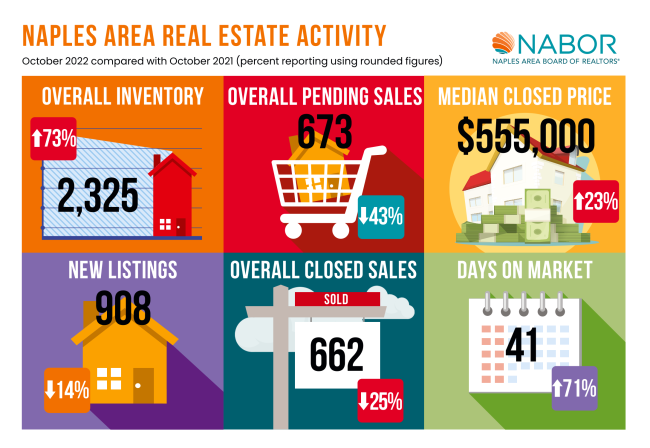 Admittedly, compared to 2021 which was a standout year for real estate in Collier County, closed sales in October decreased 24.5 percent to 662 closed sales from 877 closed sales in October 2021. Pending sales (homes under contract) also decreased 43.3 percent to 673 pending sales from 1,186 pending sales in October 2021.
According to NABOR®'s statistics, October's overall median closed price held fast at $555,000, the same as was reported in September. But compared to October 2021, the overall median closed price increased 23.3 percent from $450,000. Interestingly, the statistics showed a 1.6 percent decrease in median closed price for condominiums between September and October. Haynes added that, "While we saw a slight increase in new listings by condominium owners who had damage and decided to sell instead of rebuild, the hurricane is not going to spark a 'fire sale' trend."
There was a 26.1 percent increase in new listings in October compared to September, which broker analysts say is typical this time of year. Overall new listings in October decreased 13.9 percent to 908 from 1,054 in October 2021, but new listings for single family homes soared in October and were just 10 properties shy of the 548 new listings reported in October 2021. Preseason buyers will be pleased to find many more options than last year.
The NABOR® October 2022 Market Report provides comparisons of single-family home and condominium sales (via the Southwest Florida MLS), price ranges, and geographic segmentation and includes an overall market summary. NABOR® sales statistics are presented in chart format, including these overall (single-family and condominium) findings for 2022: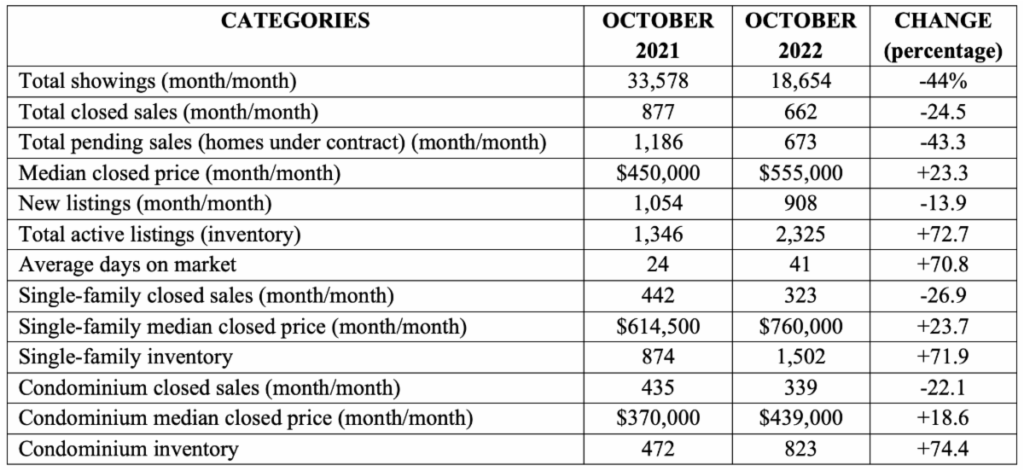 If you are considering selling your home, look to a Naples REALTOR® who has the ability to provide an accurate market comparison and give you expert advice on how to capitalize on today's market conditions. A REALTOR® can ensure your next purchase or sale in the Naples area is a success. Search for your dream home and find a Naples REALTOR® on Naplesarea.com.