Inventory Up and Prices Hold Steady in February
Buyers looking for homes in Naples during February were met with more choices as overall inventory increased 131.4 percent to 2,835 properties from 1,225 properties in February 2022. Broker analysts reviewing the February 2023 Market Report by the Naples Area Board of REALTORS® (NABOR®), which tracks home listings and sales within Collier County (excluding Marco Island), attribute some of the rise in inventory to Hurricane Ian as many sellers were forced to address and remedy damage caused by the storm before the property was ready to welcome buyers. February's overall median closed price is the same as January's median close price of $600,000.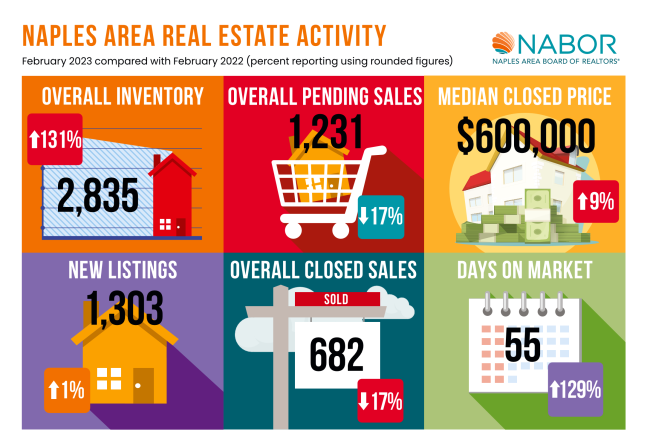 The gap in sales activity year over year continues to close thanks to continued confidence in the Naples real estate market. Overall pending sales in February decreased 16.8 percent to 1,241 pending sales from 1,480 pending sales in February 2022. Overall closed sales during February decreased 17.2 percent to 682 closed sales from 824 closed sales in February 2022. And showings decreased 15 percent in February to 36,574 showings from 43,032 showings in February 2022.
The NABOR® February 2023 Market Report provides comparisons of single-family home and condominium sales (via the Southwest Florida MLS), price ranges, and geographic segmentation and includes an overall market summary. NABOR® sales statistics are presented in chart format, including these overall (single-family and condominium) findings for 2023: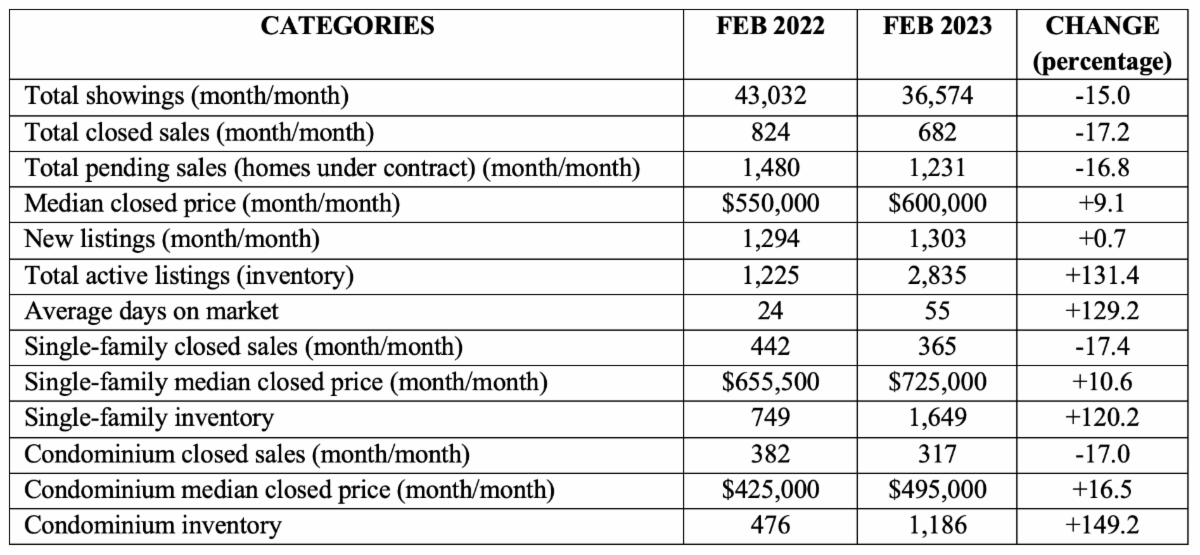 As days on market for February increased 129.2 percent to 55 days from 24 days, the report's pending sales data startled broker analysts initially because it reflected several sales contracts that were canceled numerous times during the month.
Although unlike most of America, the majority of home sales in Naples are cash sales [62.1 percent in February] so the financial market's uncertainty may benefit our housing market if high-net-worth families turn to real estate as a more secure place to invest their wealth.
If you are considering buying or selling your home, look to a Naples REALTOR® who has the ability to provide an accurate market comparison and give you expert advice on how to capitalize on today's market conditions. A REALTOR® can ensure your next purchase or sale in the Naples area is a success. Search for your dream home and find a Naples REALTOR® on Naplesarea.com.