Low Inventory & High Demand Continues to Push Home Prices Up
A 34.5 percent increase in new listings sparked 19,277 more showings during January compared to new listings and showings reported in December 2021. While an increase in new listings demonstrates a solid start for the real estate market this year, low inventory continues to harness the market's potential. As a result of tight inventory, January sales activity could not meet the level of sales activity reported in January 2021. Historically, month to month sales activity during season ascends through April. But according to broker analysts reviewing the January 2022 Market Report released by the Naples Area Board of REALTORS® (NABOR®), which tracks home listings and sales within Collier County (excluding Marco Island), a 74.9 percent decrease in inventory for January to 1,122 homes from 4,474 homes in January 2021 will not provide the same level of sales transactions that occurred last season.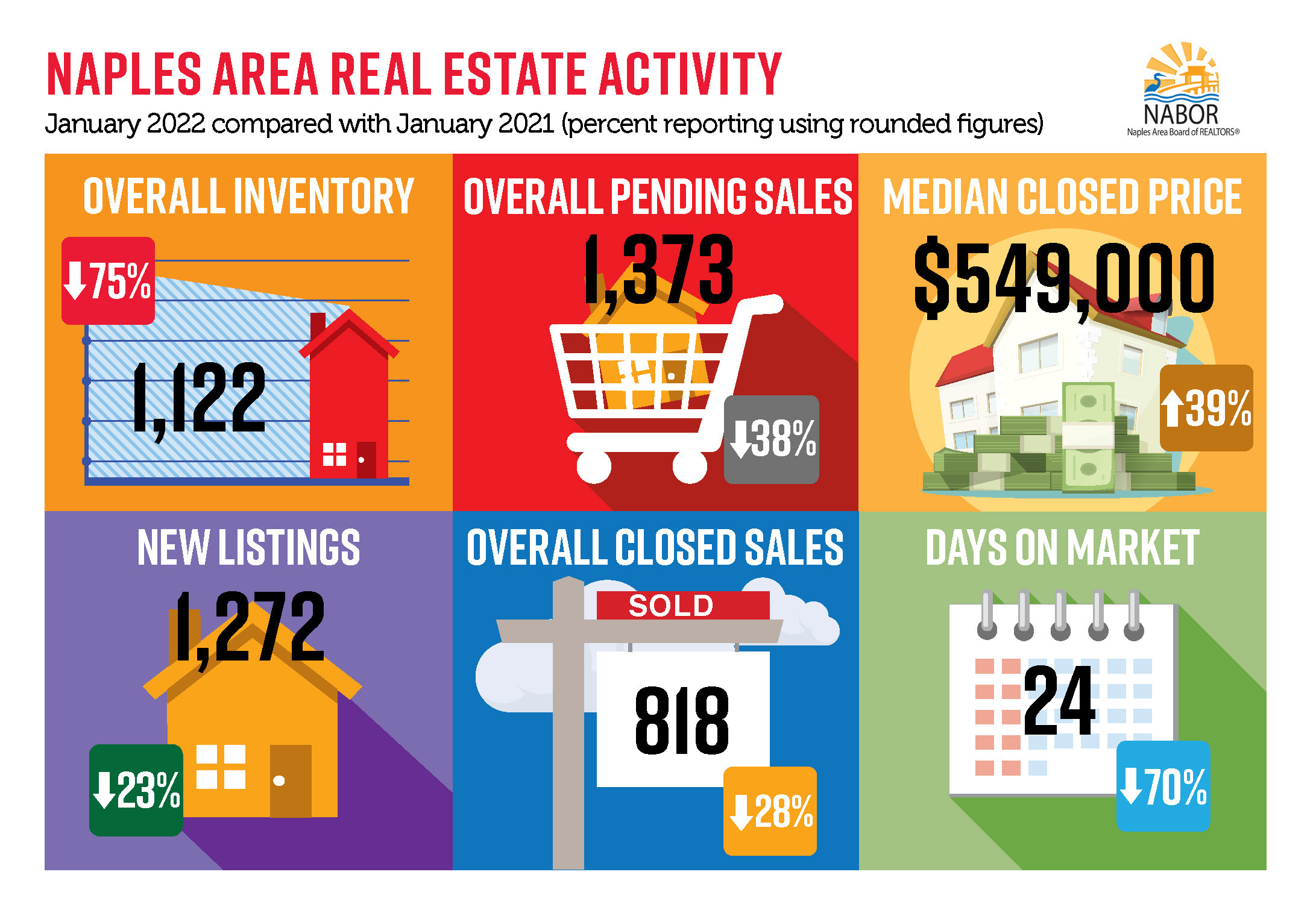 The overall median closed price increased 39 percent in January to $549,000 from $395,000 in January 2021. The condominium market continued to report sales at an above list price trend for the second month in a row, and a 47.2 percent increase in median closed price in January to $427,000 from $290,132 in January 2021. The median closed price for single-family homes rose 25.1 percent in January to $675,000 from $539,500 in January 2021.
With less than a one-month supply of homes, closed sales during January could not realize the level of activity it experienced a year ago and decreased 27.9 percent to 818 closed sales from 1,134 closed sales in January 2021. Pending sales – which reflect the number of new homes under contract – decreased 37.9 percent to 1,373 from 2,210 in January 2021; but, as mentioned above, pending sales in January increased by 335 contracts (32 percent) compared to pending sales reported in December 2021 (1,038).
The NABOR® January 2022 Market Report provides comparisons of single-family home and condominium sales (via the Southwest Florida MLS), price ranges, and geographic segmentation and includes an overall market summary. NABOR® sales statistics are presented in chart format, including these overall (single-family and condominium) findings for 2022: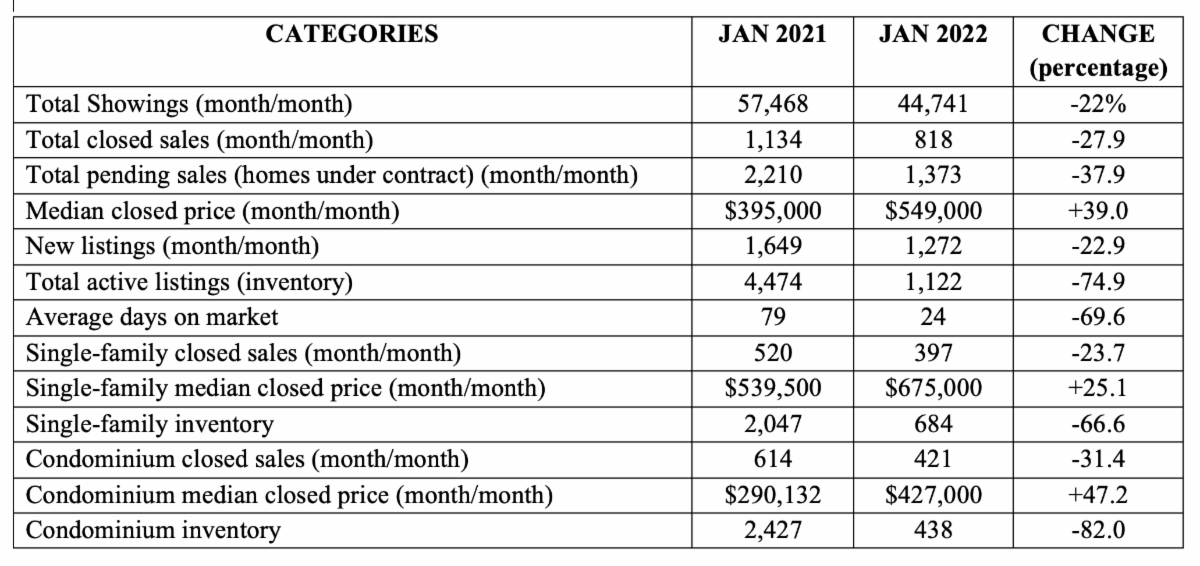 New lending rules from Fannie Mae and Freddie Mac go into effect April 1st and add more requirements from those purchasing a second home or condominium.
Buying or selling a home in Naples is a big and fast-moving endeavor. That is why there has never been a more important time to work with a REALTOR® who can help you write a good contract that protects you and gets the paperwork in order so your sale or purchase goes smoothly.
We encourage the following groups of homeowners to consider listing their properties now if they want to maximize profits before the market changes:
Owners of rental property that require substantial maintenance and who could gain the same or more profit from investment dividends
Older homeowners whose future plans include living in a retirement or assisted living community
Empty nesters who don't require a large single-family home anymore
Second-home owners who would enjoy a profit and can purchase a Naples home closer to retirement
If you are looking to sell a home in Naples, contact a Naples REALTOR® professional who has the ability and expertise to provide you with an accurate market comparison in this fast-moving market, manage your showings to the right audience, evaluate the use of contingencies, and help you negotiate your home sale during a multiple offer process. A REALTOR® can ensure your next purchase or sale in the Naples area is a success. Search for your dream home and find a Naples REALTOR® on Naplesarea.com.
The Naples Area Board of REALTORS® (NABOR®) is an established organization (Chartered in 1949) whose members have a positive and progressive impact on the Naples community. NABOR® is a local board of REALTORS® and real estate professionals with a legacy of over 60 years serving 7,500 plus members. NABOR® is a member of Florida Realtors® and the National Association of REALTORS®, which is the largest association in the United States with more than 1.5 million members and over 1,200 local boards of REALTORS® nationwide. NABOR® is structured to provide programs and services to its membership through various committees and the NABOR® Board of Directors, all of whose members are non-paid volunteers.
The term REALTOR® is a registered collective membership mark which identifies a real estate professional who is a member of the National Association of REALTORS® and who subscribe to its strict Code of Ethics.