Naples remains a seller's market with low inventory, climbing prices
Pre-season buyers descended on the Naples real estate market in November pushing the area's overall inventory down 76.1 percent to 1,198 homes from 5,006 homes in November 2020. Demand for the Naples lifestyle during November also influenced the median closed price which increased 31.3 percent to $499,000 from $380,000 in November 2020. Broker analysts reviewing the November 2021 Market Report released by the Naples Area Board of REALTORS® (NABOR®), which tracks home listings and sales within Collier County (excluding Marco Island), predict buyer demand to continue as homeowners in Northern states seek lifestyles with fewer COVID-19 restrictions and international buyers seek investments in the U.S. real estate market.
REALTORS® across the Naples area are working harder than ever to find homes for clients as indicated by the 31,291 showings in November and 70 percent decrease in days on the market to 24 days until pending from 80 days.
Although the overall median closed price continued to rise due to a tight inventory in November, it should be noted that – in the last 12-months ending November 2021 – 57 percent of closed sales in Naples were for homes priced below $500,000.
New listings in November fell 22.9 percent to 958 homes from 1,242 in November 2020. The lack of inventory will become a challenge for REALTORS® in 2022 as demand is expected to remain steady with no inventory surplus expected. "Year over year business growth like we saw last year is just not feasible in today's market," said Adam Vellano, a Naples Sales Manager at Compass Florida. "But our issue is exactly what all other industries are facing right now: Supply. We are simply becoming the store that is selling out of inventory."
The NABOR® November 2021 Market Report provides comparisons of single-family home and condominium sales (via the Southwest Florida MLS), price ranges, and geographic segmentation and includes an overall market summary. NABOR® sales statistics are presented in chart format, including these overall (single-family and condominium) findings: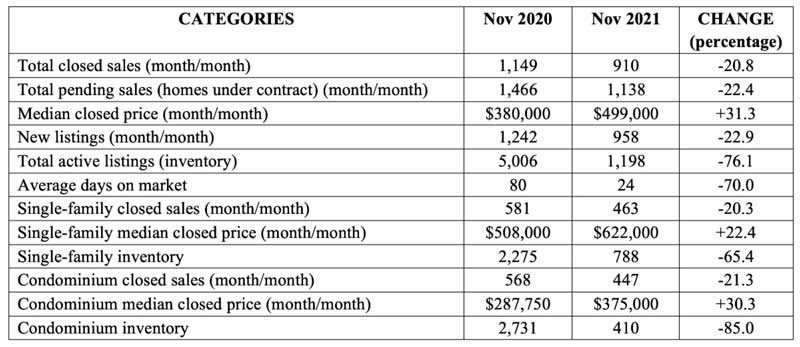 The median closed price for condominiums in November was $375,000 compared to $622,000 for single-family homes. This level of affordability might account for condominium inventory decreasing 85 percent during November compared to a 65 percent decrease in single-family home inventory.
If you are looking to buy or sell a home in Naples, contact a Naples REALTOR® who has the ability to provide a virtual showing, an accurate market comparison or negotiate a sale. A REALTOR® can ensure your next purchase or sale in the Naples area is a success. Search for your dream home and find a Naples REALTOR® on Naplesarea.com.
The Naples Area Board of REALTORS® (NABOR®) is an established organization (Chartered in 1949) whose members have a positive and progressive impact on the Naples community. NABOR® is a local board of REALTORS® and real estate professionals with a legacy of over 60 years serving 7,500 plus members. NABOR® is a member of Florida Realtors® and the National Association of REALTORS®, which is the largest association in the United States with more than 1.5 million members and over 1,200 local boards of REALTORS® nationwide. NABOR® is structured to provide programs and services to its membership through various committees and the NABOR® Board of Directors, all of whose members are non-paid volunteers.
The term REALTOR® is a registered collective membership mark which identifies a real estate professional who is a member of the National Association of REALTORS® and who subscribe to its strict Code of Ethics.