New condo communities in Naples, FL
There are several new condo communities in Naples, FL, that will be ready for residents to move in this year. Several are already under way. Here's a look at four communities that offer luxury waterfront and beachfront living.
Naples Beach Club Condos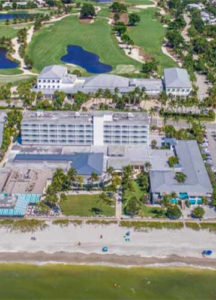 Naples Beach Club Condos will provide about 180 new luxury residences on premier beachfront property in the Coquina Sands and The Moorings areas in Naples. The new waterfront condominiums are part of a $250-million redevelopment project at the site of the Naples Beach Hotel & Golf Club, which closed in May 2021.
Learn more about Naples Beach Club Condos.
Rosewood Residences
Rosewood Residences combine beachfront living and high-rise luxury with ocean views, concierge amenities, and Rosewood's service offerings. Rosewood sits on a 5-acre property with almost 500 feet of beachfront just north of Lowdermilk Park. There will be fewer than 50 units and an average indoor size of 5,300 square feet per unit and 3-4 bedrooms.
Stay up on the latest about Rosewood Residences.
La Perle
This new development by Domanus Development Partners will include only 13 residences. Each unit will be 2,300 to 5,900 square feet and there will be 11 boat slips available. It will also include a parking garage, pool, roof deck, and other amenities. It is expected to be completed this year.
Naples One
Residents will enjoy the owners' spa, saunas, and treatment rooms as well as a private restaurant and bar. There will also be a game room with billiards and card tables, a full-service business center, business café, coffee lounge and concierge services.
These are just some of the new condo communities in Naples, FL, that are expected to be ready for occupancy this year. We'll provide updates on these and let you know about other new communities through our blog and on our website. Larry Roorda Realtor can help you find just the right place to call home. Contact Larry today at 239-860-2534.