Venetian Cove Club condos offer amenity-rich luxury living
Venetian Cove Club condos give you a tremendous view of Venetian Bay and easy access to sandy Gulf beaches. Community events and nearby shopping and dining elevate the luxurious living experience.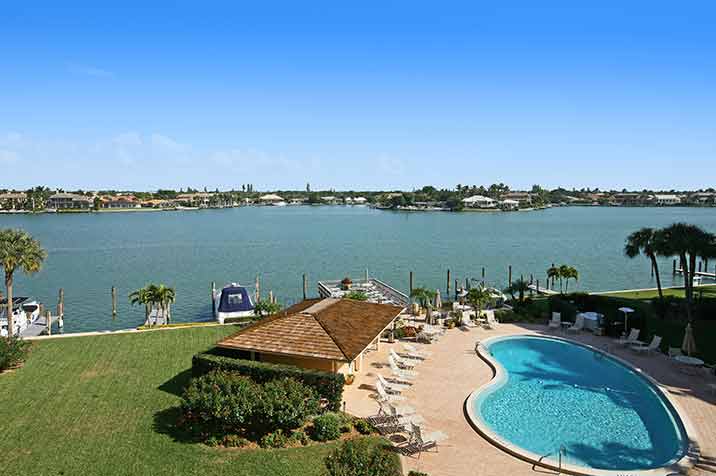 This mid-rise community at 3500 Gulf Shore Blvd North in Naples has six floors of two and three-bedroom condominiums ranging in size from 1,330 to 1,700 square feet. There are 60 residences, all pet free, with the ability to rent one for a minimum of three months, which is great if you are a seasonal resident or want to get a taste of these luxury condos before you buy one for yourself.
The Venetian Cove Club condos offer a variety of amenities and events for residents. Many of the events are seasonal and include monthly parties, a book club, games like Mah-jongg and Rummikub, and a group known as ROMEO or Retired Old Men Eating Out.
An expansive pool area sits below the condominiums with a bar and dining area that hosts an informal happy hour open to all residents during season. There is also a spacious lounge deck that extends into the bay. Direct access to Venetian Bay makes it easy to set off on a boat or kayak trip. Steps away from the community you will find easy access to beautiful Gulfshore beaches where you can end your day watching the sunset over the water.
Residents receive one parking space but have access to an area where they can wash their cars without having to leave the condominium grounds.
The Venetian Cove Club condominiums are located at the southern end of the Park Shore community, an upscale waterfront living community in Naples. It offers high-end dining and boutique shopping. The location also offers easy access to downtown Naples, which is also home to a variety of luxury dining and shopping.
These condominiums are the perfect home for those looking for a relaxing Florida lifestyle. Larry Roorda is ready to help you buy or sell today! Call 239-860-2534 and find your dream home!