Choosing a condo community
Choosing a condo community that fits all your needs can be difficult. There are so many different types of communities and they offer a wide variety of amenities. But, making the right choice is essential to having a happy home or vacation spot.
Some condominium communities allow pets, others don't. You'll find some offer pools, spas, fitness centers and plenty of outdoor entertaining space. Some offer the ability to rent the units and others put restrictions on leasing.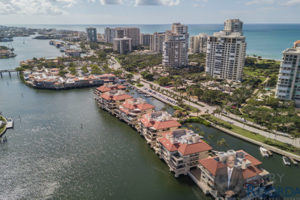 Although many think of a condo community as a way to downsize, that's not your only option. There are condos that are more spacious than most residential homes. In addition, you can find simplicity and minimalistic living or extravagant luxury living.
Whether you are looking for a place to live full-time or a vacation home, condominiums can be a great choice. Most provide all the upkeep you need and give you worry-free living.
Tips for choosing a condo community
From your price point to the amenities and desired area, you have lots of decisions to make when choosing a condo community. The best place to start is with a Realtor who specializes in the area where you want to live or the type of condominium you prefer.
If you're searching for luxury beachfront or waterfront living in Naples, Florida contact Larry Roorda. Larry has more than 30 years of experience and is dedicated to helping his clients find the perfect home, vacation home or rental property. He is skilled at selling and marketing condos for sale as well.
Next you should consider your lifestyle and determine your price point. Knowing how much the community association fees are, and what they include are very important pieces of information. Buying a condo is a big financial decision.
Properties offer a wide range of amenities, some you may use frequently, while others not at all. Let your Realtor know which amenities you need, and which you can live without. However, some amenities like a pool, could still be good for resale value or rental income.
Let's not forget the most important factor in Real Estate — location. Do you want to be beachfront or waterfront? Not only is that an ideal place to live for many people but it also provides a great opportunity for rental income. Do you want a high-rise or a small community?
In addition, it may be important to you to be near shops and services. The availability of boat slips, areas for biking and walking and nearby parks may be other factors you want to consider.
These are just a few things to consider when choosing a condo community. With so many decisions, consult a real estate professional to help you find the best place for you.