Commodore Club is ideal for boaters
The Commodore Club is a great place for boaters to live in Naples, FL. You can own or lease a boat slip and there is direct access to the Gulf.
In paradise, what more could you ask for? Enjoy beautiful sunsets on the beach and get easy access to your boat.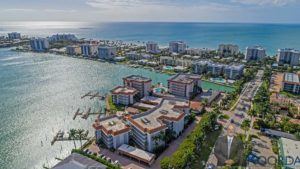 The Commodore Club, built in 1970 by Buckel Corporation, is just off Gulf Shore Boulevard, on Harbour Drive, and just a short walk to the beach.
It has two buildings, each with its own pool and its own association. They are aptly named Commodore Club I and Commodore Club II.
Both waterfront condominium buildings are on the bay side in The Moorings. In addition, some units offer floor to ceiling windows for amazing views. You also have waterfront access.
Although they both offer boat slips, one offers ownership and the other leasing. And, there are no bridges to get to the Gulf. And, there are no bridges to get to the Gulf.
Commodore Club I & II
At Commodore Club I, you can own a boat slip. With 2 spacious bedrooms, 2 baths, in-unit laundry, and 1,430 total square feet of space, it offers plenty of room to entertain family and friends.
Additionally, it is designed for people who like the outdoors. Not only does each unit have extra storage space but also owners have access to kayak storage, grills, and a relaxing pool overlooking the peaceful bay. Each unit has a covered carport. No pets are allowed.
Club II has 4 buildings with 44 units ranging in size from 1,300 to 2,000 square feet. Owners can lease boat slips that can accommodate boats up to 50 feet. No pets are allowed. Also, each unit has a carport.
There have been many renovations over the past few years, including resurfacing the exterior.
Either Club is a boater's dream. You have the freedom to hop on the boat to enjoy the tranquil Gulf waters anytime you want. If you want to call Commodore Club home, contact Realtor Larry Roorda, who specializes in The Moorings and Park Shore.