Cloisters of Naples condos: A slice of beachfront paradise
The Cloisters of Naples condos sit directly on the beautiful white-sand beaches in The Moorings, just north of Doctors Pass. With only 20 residences, this community has beautiful landscaped open green space as well as beachfront living.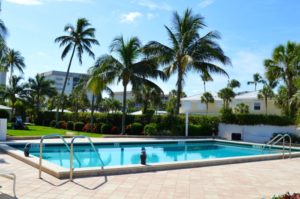 Cloisters was built in 1968 and is comprised of three two-unit villas and a main mid-rise building. The two-unit villas separate a green space and a beachside pool from the condo community to the north. On the south side of the community is the Via Miramar Beach Access. Cloisters of Naples condo residents have their own private access to Naples Beach.
Condos range in size from around 1,600 square feet to nearly 2,300 square feet. Each unit has large bay windows, giving residents fantastic views across the Gulf of Mexico. Units also come with a secure private garage space with bike storage, a highly desirable and hard-to-find amenity in the area. Extra storage is also available on-site if residents need it.
The Cloisters of Naples beachside pool features a grilling area and sits directly on the beach. Behind the pool is a spacious green space for residents to enjoy. Those who want to use this as a winter getaway can lease it while they are away once a year for a minimum of 90 days. Pets are not allowed in this community.
Cloisters' location on Gulf Shore Boulevard North, puts residents in a great location to explore the historic 5th Avenue South, the nearby Village Shops on Venetian Bay, and much more. Moorings residents are also able to join The Moorings Golf and Country Club, which features a stunning 18-hole golf course.
Beachfront properties are a highly desirable place to call home. If you are interested in the Cloisters of Naples condos or another beachfront property in Naples, contact us or call (239) 860-2534. Larry Roorda and his team of Naples real estate experts will help you find your dream.