Jamaica Towers condos provide small community beachfront living
Jamaica Towers condos in The Moorings offers unobstructed views of the Gulf from every residence. It also offers a smaller community feel, with only 32 total units right on the beach.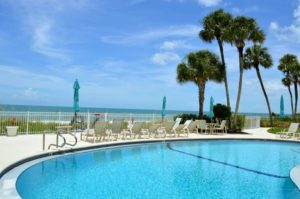 Situated along the Gulf shores, the Jamaica Towers building sits further from Gulf Shore Boulevard than its neighboring buildings. This distance allows for a grand, manicured drive that leads to the covered parking in front of the main entrance of the building designed and built in 1969 by Neapolitans for Naples.
Jamaica Towers condos range from roughly 1,500 square feet to almost 2,000 square feet. The building is home to just 32 units, with only four units per floor. This smaller community size allows for increased privacy for its residents. The amenities include a large, geothermally heated pool sitting on 200 feet of beachfront. Surrounding the pool is a grilling area and grassy space to spread out and enjoy the sun. From the sun deck, residents have private access to the beach.
Each floor has a shared laundry, but some condo owners have opted to get private, in-unit laundry installed. Storage is available for residents with bikes, kayaks, and other items they don't want to store in their condo. Each unit has one covered parking space in front of the building, with additional available for guests.
Jamaica Towers condo residents can lease their unit once a year for a minimum of 90 days, if they choose. If you don't rent your condo, building employees are on hand to ensure your beachfront home is cared for while you are away if you are purchasing a unit as a second home. The building does not allow pets.
Thanks to its prime location in The Moorings, Jamaica Towers residents are within walking distance of the Village Shops on Venetian Bay. They are also only a short drive from the famous 5th Avenue South. Being a resident of The Moorings also gives you access to the private Moorings Golf and Country Club.
If this stunning beachfront condo community sounds like what you've been searching for, contact Larry Roorda and our team of expert Naples REALTORS®. Call (239) 860-2534, and we'll help you find the perfect condo in Jamaica Towers or anywhere else in Naples.