Is now a good time to sell a condo?
If you have a condominium in Naples, FL, especially a waterfront one, you may be wondering if it is a good time to sell a condo. The short answer is, yes, you should consider it.
The best time to sell a home, obviously, is when market conditions are great for the seller. That time is now. Homes are selling quickly because the inventory is low. The limited inventory and high demand is also driving prices up. That's been the case in Naples for months.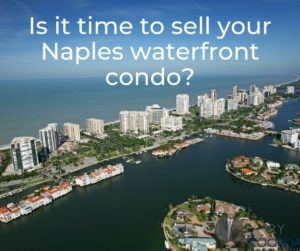 One reason demand is so high is more people are moving, especially to Naples. In addition to a steady influx of retirees, more working professionals are moving to the area. More people are working remotely and can live anywhere. And, if you can live anywhere you want, why not choose paradise?
If you feel now is a good time to sell a condo and you're ready, you should talk to a real estate professional about putting it on the market. If it's investment property or a second home this can be a great chance to take advantage of market conditions. You'll benefit from the high prices yet not have to turn around and buy another home at a high price.
A Realtor will be able to provide advice and guide you through the sales process. They can provide you with the information you need to make an informed decision before deciding to list your home. Find a Realtor that has experience with similar types of property in your area. This can save you time and money in the long run, and buyers will enjoy dealing with someone who doesn't falter with their questions.
The right professional will also give your home the marketing it needs to reach the best potential buyers. If you're looking for an experienced Realtor in Naples you can trust, get in touch with our team today. We specialize in waterfront property in the Park Shore and The Moorings areas.