Home Values Continue to Climb in April
The Naples real estate market enjoyed another month of increased home values driven mainly by another month of below-typical inventory levels. According to the area's top real estate brokers, resale home inventory in Naples this year will unlikely spike to levels we enjoyed before the pandemic. However, since 2019, the number of new listings each month has remained fairly consistent, with most months enjoying an average of between 1,100 and 1,300 new listings. According to the April 2023 Market Report by the Naples Area Board of REALTORS® (NABOR®), which tracks home listings and sales within Collier County (excluding Marco Island), overall inventory increased 64.4 percent in April to 2,868 homes for sale from 1,745 homes for sale in April 2022.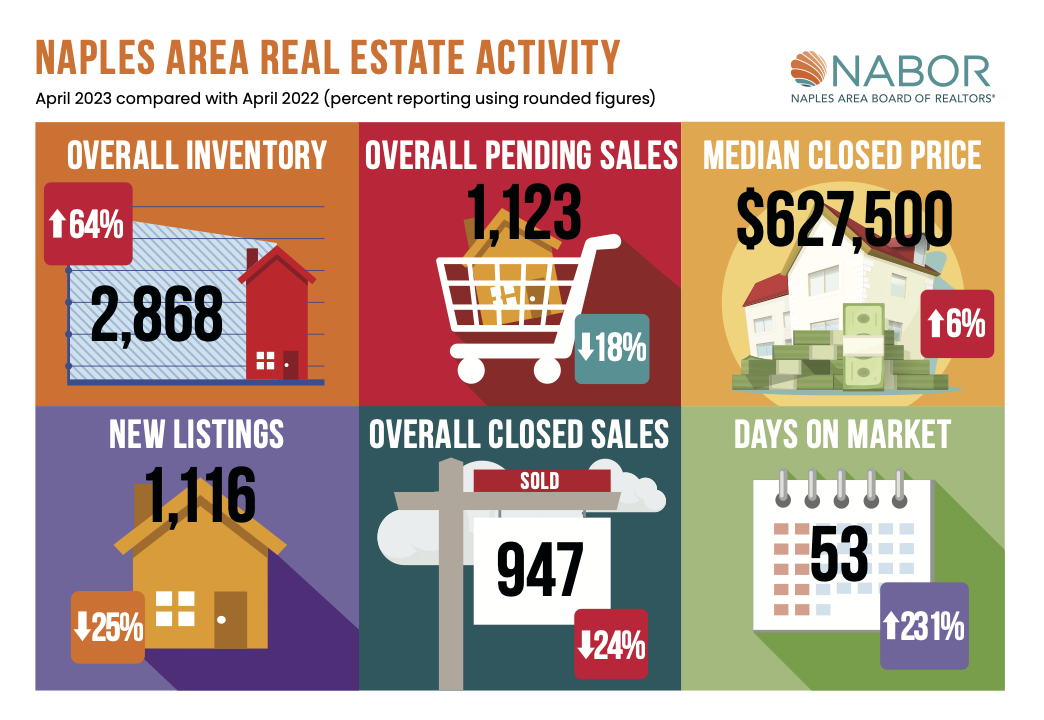 Interest rates may also be influencing prospective sellers in Naples who currently enjoy a low-interest rate on their mortgage too. In April, new listings decreased 25 percent to 1,116 new listings from 1,488 new listings in April 2022. Though many homes in Naples have doubled in value since 2019, providing sellers with a nice profit to use toward their next home purchase. With a hefty down payment, these sellers can minimize their next home's mortgage obligation to make monthly payments affordable, even at a higher interest rate.
As a result of slow inventory gains this year, pending and closed sales activity simmered slightly in April compared to March. Pending sales decreased 18.4 percent to 1,123 pending sales from 1,377 pending sales in April 2022, and closed sales in April decreased 24.2 percent to 947 closed sales from 1,250 closed sales in April 2022.
The report also showed the area's overall median closed price is not increasing by double-digits each month anymore. In April, the median closed price for single-family homes increased 3.1 percent to $825,000 from $800,000 in April 2022. But it's a different story in the condominium market, where the median closed price increased 14.3 percent in April to $526,000 from $460,000 in April 2022.
The NABOR® April 2023 Market Report provides comparisons of single-family home and condominium sales (via the Southwest Florida MLS), price ranges, and geographic segmentation and includes an overall market summary. NABOR® sales statistics are presented in chart format, including these overall (single-family and condominium) findings for 2023: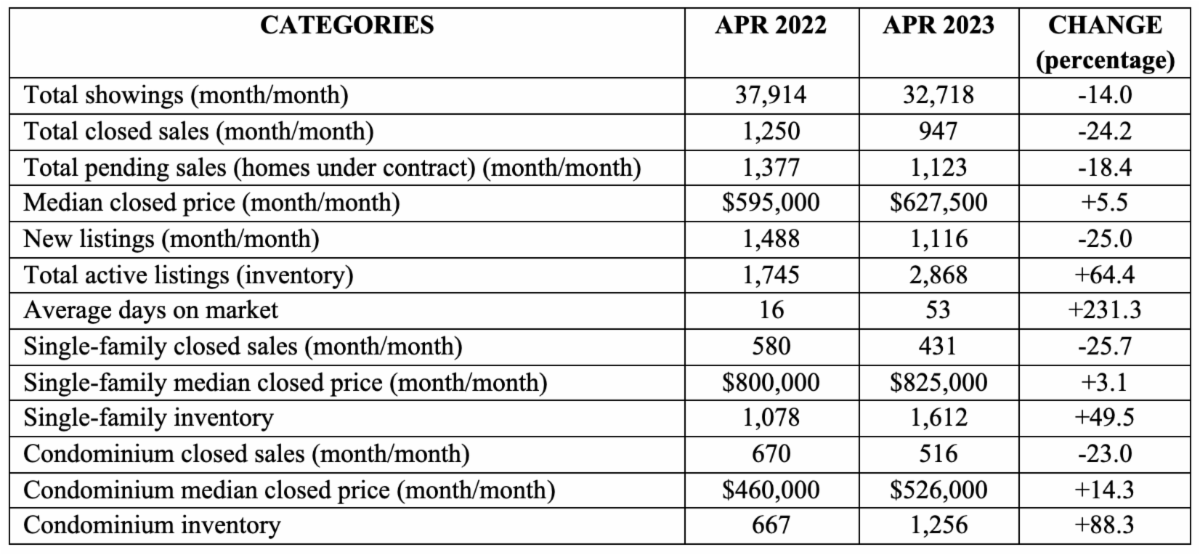 Buyers in Naples today need to be aware of their insurance cost obligation before negotiations. Understanding a home's true market value can be a complicated process when there is great market dispersion and many factors influencing list price determination.
If you are considering buying or selling your home, look to a Naples REALTOR® who has the ability to provide an accurate market comparison and give you expert advice on how to capitalize on today's market conditions. A REALTOR® can ensure your next purchase or sale in the Naples area is a success. Search for your dream home and find a Naples REALTOR® on Naplesarea.com.