Naples real estate facts to know before investing
Whether you're searching for an investment property or a new home for your family, here are some key Naples real estate facts you should know.
To make the best decision, you should understand the market, watch the trends, and consult with a real estate professional. It's not something you want to tackle alone unless you have experience in real estate investing.
Naples Real Estate Facts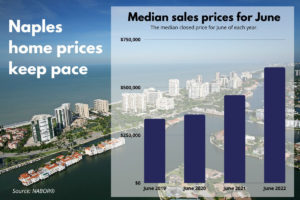 The Naples area has been a seller's market for a couple years with prices climbing, low inventory and quick sales. Buyers have had to be ready to put in an offer quickly and be prepared for competing bids. We are seeing a little less velocity, but a sellers market nonetheless.
Since June 2020, the median prices each month have seen an increase of more than 25% year over year. Although it's mostly a steady increase, seasonality plays a part in our market as well.
The Naples area is out pacing state and national numbers. The statewide median sales price for single-family existing homes in June was $420,000, up 19.7% from the previous year.
Although sales have been booming in Naples and across the country, some are concerned a rise in interest rates will cool the market. Locally, you can see by the numbers that it's not having a major impact today. Even if we see this hot market cooling, Naples has proven to be a strong market with solid fundamentals.
With numbers outpacing the state and national numbers, it shows us just how valuable our area is. The warm weather, sandy beaches and friendly people keep this area a highly popular place to live.
Before you buy a home or investment property, just make sure you do your homework. There are no guarantees of market results, but you should review the trends and consult professionals. Gathering as much information as possible will help you make the best decision possible. If you are interested in investment property in the Naples area, Larry Roorda is a highly experienced Realtor® who can help guide you through the process.