Sellers are Taking Advantage of Home Values Hitting Record Highs
More sellers are motivated to enter the market as home values continue to rise as a result of limited inventory and high demand in the Naples area. According to the February 2022 Market Report released by the Naples Area Board of REALTORS® (NABOR®), which tracks home listings and sales within Collier County (excluding Marco Island), the overall median closed price in February was $550,000, a 37.5 percent increase over the median closed price in February 2021. The high demand for homes is demonstrated by the number of showings in February, which was 43,032. When divided by the number of homes in inventory during February (1,176), this translates to 36 showings per home. For perspective, in 2019 there were 2.9 showings per home. The data also shows that homes sold fast in February, within 23 days on the market, and the percent of list price received was 100.6 percent, which pleased many sellers.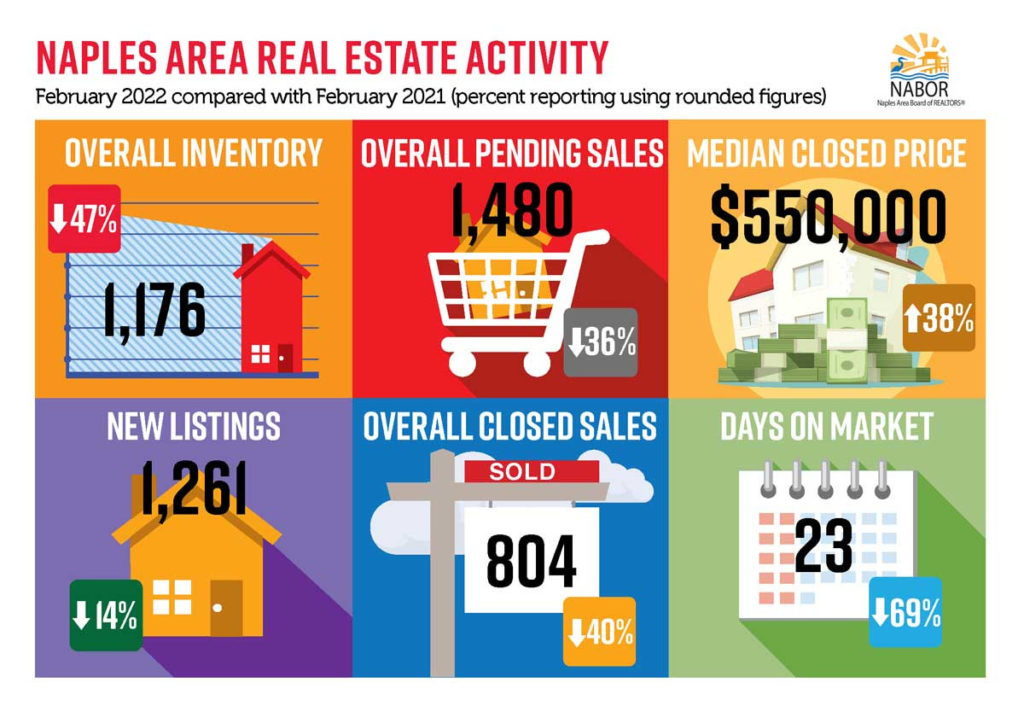 To take advantage of this occurrence, Jones suggests buyers use a very important tool in real estate: the back-up offer contract. A back-up offer can be placed on any property when that property is already under contract with another buyer. But in today's market, there is a higher likelihood that the first offer may not stick so a back-up offer is a smart tool for buyers right now.
The median closed price in February increased 37.5 percent to $550,000 from $400,000 in February 2021. Closed sales in February during the years leading up to the pandemic (2017-2019) averaged in the low 600s, but demand for the Naples lifestyle and the amenities living in paradise offer have driven buyers to the paradise coast in record numbers in recent years. It is only due to a lack of inventory that home sales in Naples did not fare as well as last February.
The NABOR® February 2022 Market Report provides comparisons of single-family home and condominium sales (via the Southwest Florida MLS), price ranges, and geographic segmentation and includes an overall market summary. NABOR® sales statistics are presented in chart format, including these overall (single-family and condominium) findings for 2022: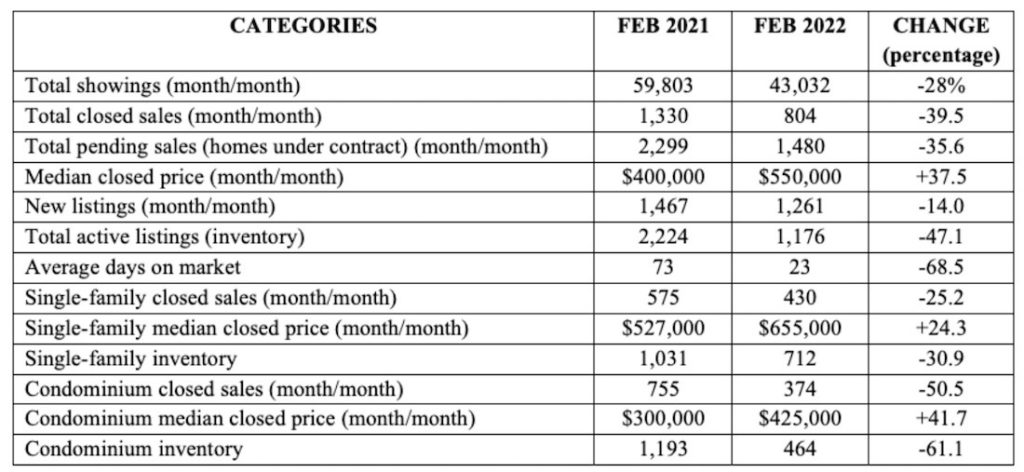 There are several other key performance areas within the February report, month/month, that are worthy of mention:
1,261 – The number of new listings added to the existing inventory
69.7% – The percentage increase in median closed price for properties located in 34113
$1,161,203 – The average closed price for single family homes (+5.3%)
5% – The percentage increase in overall closed sales in Central Naples (34104, 34105, 34116)
4 – The number of months in a row that condominiums have sold for over 100% of list price
46% – The percentage decrease in median closed price for single-family homes in the Naples Beach area (34102, 34103, 34108)
If you are looking to sell a home in Naples, contact a Naples REALTOR® professional who has the ability and expertise to provide you with an accurate market comparison in this fast-moving market, manage your showings to the right audience, evaluate the use of contingencies, and help you negotiate your home sale during a multiple offer process. A REALTOR® can ensure your next purchase or sale in the Naples area is a success. Search for your dream home and find a Naples REALTOR® on Naplesarea.com.
The Naples Area Board of REALTORS® (NABOR®) is an established organization (Chartered in 1949) whose members have a positive and progressive impact on the Naples community. NABOR® is a local board of REALTORS® and real estate professionals with a legacy of over 60 years serving 7,500 plus members. NABOR® is a member of Florida Realtors® and the National Association of REALTORS®, which is the largest association in the United States with more than 1.5 million members and over 1,200 local boards of REALTORS® nationwide. NABOR® is structured to provide programs and services to its membership through various committees and the NABOR® Board of Directors, all of whose members are non-paid volunteers.
The term REALTOR® is a registered collective membership mark which identifies a real estate professional who is a member of the National Association of REALTORS® and who subscribe to its strict Code of Ethics.