Gulf Shore Colony Club exudes old Naples beachfront charm
Gulf Shore Colony Club is a low-density community that exudes Olde Naples beachfront charm. It is ideal for people who prefer a more modest & intimate setting to a high-rise.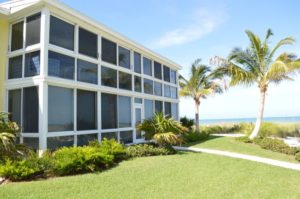 There are eight 2-story buildings with mature, lush landscaping and pathways leading to a pool in the center. Each building only has 2 units, ranging in size from 1,400 to 1,800 square feet. They offer plenty of space for people downsizing, individuals or couples, especially people who want to enjoy the beach and not worry about maintenance.
Gulf Shore Colony Club is located along Gulf Shore Boulevard N in the southern Moorings area in Naples, FL. Residents have amazing views of the Gulf of Mexico and private beach access.
A short distance away is Lowdermilk Park, a beachfront park with concession stand, sand volleyball courts, playgrounds, picnic tables, benches, restroom and shower facilities and two gazebos for rent.
There's also plenty of shopping and dining options nearby.
Gulf Shore Colony Club is a co-op, built in 1960 by Naples Construction. The community, which is run by a Board of Directors, does not allow leasing. Pets weighing up to 45 pounds are allowed. Each resident has a carport parking spot.
As part of a co-op, residents own a share of stock in a corporation which owns or leases the land and buildings. Residents lease a unit for as long as they own the stock. In a co-op, you don't have to worry about maintenance.
There are about 30 co-op communities in Collier County, most of which were developed in the 1960s as well.
If you are interested in this community or other beachfront or bayfront property in Naples, contact Larry Roorda. He has extensive knowledge of The Moorings and Park Shore areas. Call Larry Roorda at 239-860-2534. Current properties for sale can be found on his website at Roorda.com.