Naples condo sales show steady growth
Naples condo sales saw three months of steady growth after a short dip following the Coronavirus outbreak. The median sale price is also increasing while the inventory is down considerably year over year.
With the increase in demand but fewer condos for sale, listings are spending less time on the market. They are also selling for about 20 percent more than they did last year.
If you have a Naples condo you were considering selling, now might be a good time. This is especially true in highly desirable areas such as Park Shore and The Moorings.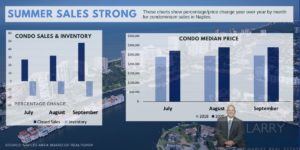 In September, there were nearly 50 percent more condo sales than last year and overall pending sales were up 83 percent. Inventory was down 32 percent.
The Naples real estate market got off to a great start in 2020 with closed and pending sales more than 30 percent over last year. Closed sales were still up in March but declined in April and May before starting to level off in June then surge in the summer.
Naples condo sales were up an average of 36 percent during the summer compared to the same period last year. Inventory is down about 20 percent and prices are up more than 15 percent, according to statistics by the Naples Area Board of REALTORS® (NABOR®).
The decline in inventory over the previous year is likely due to the pandemic. Many homeowners may have held off listing their homes fearing our uncertain times would lead to a lack of buyers.
However, the changing times have also spurred demand as many people have decided to relocate. Nearly 16 million people moved between February and August, according to the US Postal Service.
The biggest reason people moved was to reduce their risk of contracting COVID-19, according to a study by the Pew Research Center. About 23 percent said they moved because their college campus closed; 20 percent wanted to be with their family; and 18 percent cited financial reasons for their move, including job loss.
There are also more people working from home, giving them the flexibility to live wherever they want. People are looking for places where there can do outdoor activities year-round. Many big city residents are heading to smaller towns where they can get a more spacious home for a better price.
It's no surprise that the weather and beaches bring people to Southwest Florida. There are plenty of outdoor activities all year long.
Florida offers another benefit that is appealing to many. Florida residents pay no state income or estate tax, and receive a homestead exemption of up to $50,000 on a primary residence and a 3 percent annual cap on home assessments.
The state's population has grown by about 343,000 in the last year, to about 22 million residents, according to worldpopulationreview.com.
If you are considering selling a condo in The Moorings or Park Shore, Larry Roorda Realtor is extremely experienced in these areas. He also invests a great deal of marketing behind each listing, giving you an advantage when selling your home. Contact Larry at 239-860-2534.